Your workforce is essential to the success of your business; they are your most valuable asset as the work they produce propels you forward and allows your organisation to grow. Supervision plays a key part in supporting them to deliver high-quality results, your employees will feel more confident completing their tasks if they have someone looking over them to assist should they come across any obstacles.
Effective supervision nurtures workplace relationships, addresses any issues, celebrates successes and supports employee development. In today's blog post, we're discussing the role of supervision within the workplace in detail and identifying the warning signs that may suggest a supervisor's management is ineffective alongside how this can be improved.
What is supervision?
Supervision is not about exercising power over another individual, rather it is a form of management. The supervisor will take responsibility and accountability for supporting the wellbeing and performance of the employees under their care. Usually, a regular one-to-one meeting will be scheduled and will enable both the supervisor and supervisee, to discuss the supervisee's current work performance. Within this session, you may review workloads, set new expectations, monitor goals and identify development opportunities.
You may also have group appraisal sessions with the team's supervisor, allowing for an open conversation about changes or concerns. Therefore, the supervisor will be able to ensure that good practice is shared and followed by all under their care.
NOTE: Supervision differs from management here, a supervisor will oversee work whilst a manager will decide how this work gets done – they have a more active role in directing operations and creating objectives for employees.
The role of supervision in the workplace
So, why exactly is supervision so vital in the workplace? This overseeing position has lost some of its purpose in the last decade with many failing to, therefore, understand its importance. But, we can clearly see there are a variety of different reasons why it is so vital:
#1 Maintain quality of work
Supervision is a formal process that outlines the expectations and standards of the company – and, aligns these with the individual's personal goals ensuring they, therefore, remain motivated. These one-to-one sessions with a supervisor, are also an excellent opportunity for employee's to reflect on their performance; together, you can then put actions in place to target areas of improvement that have been identified. This encourages staff to be accountable for their own work.
#2 Ensure staff feel supported
A key role of supervision in the workplace is the channel of communication it provides between management and staff. Useful information can be shared and challenges overcome without any delay, this ensure staff can confidently complete their tasks as they know they can access support should they face a difficult situation.
NOTE: Employees may struggle to turn to a manager with a query they feel they should already know, especially if they do not work closely on a daily basis. This can have a negative effect on the levels of productivity within your business and staff avoid resolving small issues immediately.
#3 Support ongoing learning and development
Supervisors can be an aid to both managers and employees as they may be able to identify areas of development that may otherwise go unnoticed. And, they'll be able to put action plans in place to address these gaps ensuring that staff have the skills and knowledge required to effectively work in their role.
Identifying areas of improvement is crucial to the development of your company; not doing so may see your business plateau, or even fail should it not keep up with competitors. Remember, your people are the driving force behind your success and therefore, you need to have structures in place that nurture employees – and, offer them career progression.
#4 Celebrate achievements
Managers are not always aware of an employee's achievements, especially within a specifically stressful period. But, a supervisor can ensure these don't go unnoticed; staff can reflect on their successes with the individual overseeing their work and this can be passed onto a manager too. Ultimately, this allows staff to feel more valued and motivate them to continue working to a high level.
#5 Support problem solving
Actively listening to the employees they oversee, the role of supervision is so vital within the workplace because it allows for management and staff to overcome any issues or problems. Supervision ensures these are identified in a timely fashion and innovative solutions can be created to resolve them potentially before they escalate to HR.
#6 Train new hires
When a new employee joins the team, their supervisor should help them settle into their role by offering support and guidance during the transition. This may include a workplace orientation and explaining company policies or job duties. In addition, they may manage all onboarding activities or work with the HR department to ensure the new employee receives all the information they need.
The supervisor will act as a personal trainer, the first port-of-call for the new employee to ensure they feel comfortable and begin to thrive/settle with their colleagues. A supervisor may invite them to lunch or coffee, ensuring they do not feel isolated in the new environment.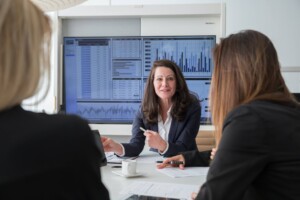 Warning signs: What to avoid
It's easy to list what an effective supervisor will do, but it can be difficult to identify why this guidance or support is failing your employees. So, here are a few key signs to look out for that may suggest your supervision is not serving to its full potential:
Frequently cancelled supervision sessions at short notice due to other work
Supervision is primarily used to communicate changes within the organisation
There is no fixed time frame or regular scheduling of meetings
Sessions are held in an open-plan office rather than privately
Meetings frequently overrun and discussions then have to be carried over
Some staff seem intimidated or frightened by these looming sessions
The supervisor has no formal training or has undertaken little research to complete this effectively
No notes are made, or if they are the supervisor does not share these with the employee
Topics are jumped around due to awkwardness
By identifying these areas requiring improvement, you can ensure your supervisor is overseeing their team successfully, taking action to amend any of these common mistakes before they have a long-lasting effect. Consistently making these areas may lead to higher turnover rates in staff as they feel they are not being listened to and cannot develop with your company.
What skills do you need to be an effective supervisor?
Many companies choose to promote internally after a non-managerial employee has proven themselves capable. They'll often look for an individual that demonstrates the following:
Excellent communication skills

Expertise within a team or department

Ability to remain calm under pressure

Firm grasp of company policies

Strong work ethic

Punctuality and time management skills

Professionalism and a positive can-do attitude

Exceptional organisational abilities
But, essentially to be an effective supervisor you need to be on hand to support your team, striving to create the best possible work environment for them. If you see a potential area of development, it's vital you speak up and promote a conference or training programme to allow the employee to develop. Supervision is not only about overseeing performance, but it's also about identifying how to develop and improve an individual which in turn will aid the company overall.
Furthermore, a supervisor can have a major contribution to creating a positive company culture by offering an open-door policy and leading by example. Those you oversee will then feel more confident and willing to listen, and more importantly, take action based upon your feedback.
The conclusion
Supervision plays a major role in the workplace, acting as a bridge between managers and employees. Employees may feel they can turn to their supervisor before their manager; an effective supervisor will be there to guide and support staff, therefore the employee may feel more confident or reassured in their abilities as they won't always need to turn to a manager first for advice.
To be an effective supervisor, you need to ensure you lead by example and positively contribute to the workplace environment. It's key you process the core values and traits – training can be given to develop your ability but these core soft skills are absolutely essential. These include communication, organisation and personability, without these, it would be difficult to oversee a team.
Are you looking to change the structure of your company and implement new supervision roles? Are you not sure where to start? I can help. Work with an expert business coach with over 30 years within the industry now. Contact me at graham@grahamgarman.com or complete this contact form, and reach your business's full potential now.