Everybody knows the importance of constantly learning new skills and updating your knowledge in the workplace. Whether this learning is something that's required to do your job, such as safety certificates, or something that is done simply to expand your education, there are many benefits for the whole organisation. In fact, employers who have a good programme for learning in the workplace are more likely to attract great employees and cultivate a workforce that keeps on getting better and better with time! Traditionally, learning at work has been a little bit stale. It usually involved spending a day at the office or a different conference location, learning in the traditional sense with a teacher- almost like a classroom! But, as the wonderful world of technology has continuously improved, so have the ways we can learn at work. The concept of e learning at work is not necessarily new, but it is becoming more and more prevalent across all industries. And, this method of learning has plenty of benefits for both businesses and their employees. In this post, we'll be discussing the concept of e learning in more depth, as well as talking about some of the valuable benefits that it can bring. If you've not already invested in this concept for your training and development opportunities, it may be something that you want to think about, as it can definitely pay off for virtually any business!
What is e learning at work?
Firstly, let's take a closer look into the concept of e learning. What does it actually mean? In short, e learning is learning that takes place electronically. This usually means that it takes place online. This sort of learning can be compulsory training or voluntary education. Bear in mind that it doesn't just take place at work! It's also available in schools, colleges, universities, and home learning that you do in your own time. But, in this context, we will only be talking about e learning in the workplace and the benefits it can bring for employees and businesses. This style of learning at work has taken off even more during the Covid-19 pandemic. As more people have been working from home, it's a natural consequence that their training has also moved online where it may previously have been done in person. But, it's also being considered as a general solution to workplace training in the long term, too.
What are the valuable benefits of e learning at work?
Many people are a little sceptical about this type of training and study. They don't believe that learning electronically can be as good as the in-person counterpart. But, that's not necessarily true! Here are just some of the many valuable benefits:
It's often quicker to complete
One of the best things about this style of learning in the workplace is that it can be taken at each individual's pace. Often, this is quicker than it would be in a classroom setting. So, it often works out that less employee time is taken up on training. This is good for both employees and businesses, as more time is freed up to do their actual work, leading to higher levels of productivity.
But, it's accommodating to everyone's needs
On the other hand, some employees may need to take their learning at a slower pace. And, as e learning at work can be done at everyone's individual pace, this is far more easily accommodated than it would be in a more classroom-based setting. This keeps employees happier as they can be confident that they will keep up with the training. It's good for employers too, as they are assured everyone is fully taking in the knowledge.
It's super-flexible
Speaking of being accommodating to everyone's needs, e learning at work can be done at any time! It doesn't necessarily have to be done during regular office hours. So, it's a very flexible option that is perfect if you have team members who all work on different schedules. You don't have to have everyone in at the same time. For example, if you have people who work part-time, they can do the training at a different time to full-time employees. It can also fit around other day-to-day commitments such as the school run, appointments, and other meetings and work commitments. There's no more waiting for the perfect day when everyone is free and available to complete their training! It can be done on a schedule that best suits each individual employee.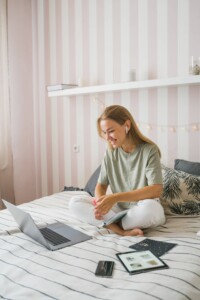 E learning can be rewound
Often, this form of learning is provided as a pre-recorded course. So, it's easy for learners to rewind if they want to repeat a part of the course or feel as though they didn't fully understand it the first time around. So, the level of knowledge that is imparted during online courses is often more in depth, as learners don't have to worry about disrupting others' learning by asking the course teacher to go over certain parts. They can go over it as many times as they wish in order to get a full understanding of the material.
It's up to date
Often, in-person training and learning using handbooks doesn't impart the most cutting-edge information. But, electronic learning is far more easily updated. So, online courses often have access to the most up to date information, which can then be passed down to the learners so that they are equipped with the most recent developments in training.
Costs are often reduced
There's no denying that training often comes with a large cost implication for employers. After all, it usually involved getting in a specialist for a day or more, and this doesn't come cheap! So, e learning at work is a lower-cost option. The courses don't require an in-person trainer, and they are often recorded. So, you just need to pay for the cost of the course without the dedicated services of a trainer. Generally, you can get training courses that are just as high-quality as their in-person counterparts for a fraction of the cost.
A paperless way of learning
These days, everyone needs to be conscious of their impact on the environment. Have you considered how in-person training options may impact the environment? They often come with a lot of paperwork, booklets, worksheets, and more that are eventually discarded. E learning is a more environmentally-friendly option that requires very few resources- apart from an internet connection! So, if your organisation is looking to go green, have you considered making the switch to electronic methods of learning?
It promotes independent learning
It's important to both businesses and the employees themselves that all team members are constantly working to improve their knowledge. This improves their teamwork, product knowledge, skills, and general ability to do their job, so it's a no-brainer really! E learning is a far more independent way of training, compared to the usual face-to-face courses. So, aside from the actual knowledge it imparts, it promotes independent learning in your employees. This helps them to feel far more confident in their abilities and really helps them blossom and learn new skills!
Are there any disadvantages?
Of course, e learning isn't for everyone, and it's not the best choice for every situation. Here are a few disadvantages to e learning at work that you may want to be aware of:
Not everybody is technology-savvy
In-person learning does suit some people more than its electronic counterpart. After all, not every single employee will have the same level of technology literacy. As a result, some may struggle with this method of learning. Perhaps they simply work better with a teacher to guide them, or maybe they are just not comfortable with the tech needed to complete online courses. So, it may not be the perfect option for every single employee, which is something to bear in mind.
Knowledge-based assessments
There's no denying that it's quite difficult to assess practical learning over an electronic course! As a result, most of the courses are knowledge-based, as are the assessments needed to complete them. So, if you need training courses that focus on practical skills for your business, e learning at work may not be the most ideal option for you.
Putting knowledge into practice may be more difficult
Learning online is often different to what people are used to! So, they may find it harder to put their knowledge into practice in a real-life work scenario, especially as online learning tends to be more theoretical than in-person courses. Having said this, it is a concern for basically any form of learning. A real-life scenario is always going to be different compared to what is taught in a classroom, whether virtual or physical. Some people do have concerns that this may be exacerbated with online learning, though, but this is usually a matter of personal opinion!
Final thoughts
As you can see, there are many benefits to e learning at work. It will probably never completely replace in-person learning, as this can have its advantages in certain situations. But, as more and more companies realise the benefits that learning electronically can bring, there has never been a better time to jump on the bandwagon! There are so many virtual training courses available these days, that no matter what your employees need to learn, there's probably one out there that will do the job just as well for a cheaper cost. What are your thoughts on electronic learning? Is it something that you're fully on board with? Have you tried it before? Or is it simply not for you? As technology gets even more advanced, who knows what we may see in the future in the way of electronic learning to benefit businesses and their employees in the future.
Looking to develop your business? Contact me now at graham@grahamgarman.com or complete this contact form, and I'll be in touch shortly.