If you find yourself typing 'find a business coach near me' into Google search, congratulations! You've taken the first step to develop and successfully grow your organisation – and, perhaps most importantly you show a willingness to do so (unless you've been coerced into it, but we hope not!).
Coaching is a valuable tool that far too many business owners overlook; not only does it can hold you accountable to an external party, but on average, companies that use a coach see a return of their investment of up to 5x times the initial expense. Seems worthwhile right?
In this article, I set out to debunk some of the myths surrounding business coaching, ensuring you can feel confident and comfortable entering into a new, successful working relationship that sees you reaching your company objectives.
What is coaching?
Whether your a small start-up or the CEO of a large-scale corporation, running a business can feel like a very solitary pursuit. Having a mentor or coach to turn to for advice can be an invaluable resource, with many owners seeking expertise on how exactly to grow their company.
Of course, there are countless articles, ebooks and videos online providing you with generic statements but, every organisation is different and therefore, requires some form of personalised guidance. That's where a business coach comes in to play, offering tailored support to overcome the trickiest of obstacles. Business coaches are typically experienced individuals who perhaps have owned their own company in the past, or have worked as a senior advisor within another organisation. With success on their side, they may have decided to share their talents and help business owners grow their company too.
We all know how successful coaching can be – whether you've used a sports instructor, guitar teacher or maths tutor in the past; going to a dedicated expert in a specific field can see you vastly improve at an impressive rate. And, the same is, of course, true for an organisation which is why if you find yourself searching 'find a business coach near me' you are headed in the right direction!
For a fee, a business coach will work alongside the executives and owners to help them define goals and future visions for the company. Ultimately, they'll create a series of strategies that will help the owner accomplish these objectives. And, should they run into a problem or feel lost, their coach will be able to help navigate them through this issue in the most effective way possible.
Whether your business is struggling and you need a way to revive it or you simply want to take your brand to the next level, bringing on a professional business coach could be the critical component you need.
What does a business coach actually do?
Before you go searching 'find a business coach near me' into Google, you'll want to know exactly what services to expect from your coach. Serving as both a mentor and trainer, they'll be a source of information and implement resources, or training programmes to develop your organisation. On a basic level they'll:
Clearly define your goals, ensuring these are achievable
Refine your skillset, targeting areas of improvement
Guide your decisions
Act as a fountain of information, navigating you through any issues that arise
Implement accountability and time management structures
There is a common misconception that business coaches are only for those that are struggling or faltering organisation when in actual fact, a coach can be for every company. Whether you're a start-up wanting to take your brand to a new level, an established corporation that has hit a plateau or just looking to advance the structure and operational systems within your successful corporation – a business coach will work with you to create a strategy, reaching your short and long-term goals.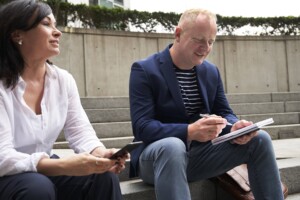 So, you've typed 'find a business coach near me' – now what?
It likely seems a little daunting typing this phrase into your search bar, and you may be met with an overwhelming response. There are hundreds of coaches out there are and trying to determine the right one for your business can seem like a minefield. And, whilst it can be useful to narrow your search geographically, it's important to not discount a coach that seems to be the perfect fit only due to location.
With developments in technology, you can collaboratively work with a business coach almost anywhere in the world – but, you must be willing! You could perhaps encourage a regular monthly meet-up in the middle to ensure you remain fully accountable and get the most out of your coach. Once you have found a coach or created a shortlist of potential options that you believe you could work effectively with you'll want to schedule a meeting to find out more. Below we've answered a few common questions that tend to crop up to help you feel more confident going into a meeting with a potential coach:
What will the first meeting be like?
The first meeting with a potential business coach will be their opportunity to learn more about you and your business so that they can understand and specifically tailor their advice. It will be a friendly and enjoyable discussion about your company, eventually leading to them offering you guidance to create specialised goals and how you can go about meeting these.
Can a business coach help me grow my company?
One of the main purposes of a business coach is to grow your organisation. They'll put strategies into place that can help you achieve this goal should this be your main objective. However, this is not the only service or purpose of coaching.
An effective coach will also work to increase your levels of productivity, make your job and running your business easier, and help you achieve all aspects of your vision for the company – including, but not limited to, its growth.
Can my small start-up benefit from business coaching?
As a small business, you can certainly benefit from business coaching, perhaps even more so than larger corporations. Your coach will not only have the experience and expertise to guide you towards success but may also have a large network of useful contacts which may be invaluable. The issue, however, is that not all small businesses can afford the right business coach and occasionally end up with an ineffective coach that does little to serve their organisation.
Always be sure to discuss the coaching options and financial arrangements, your preferred business coach may have a solution so it is always worth asking.
Will they just tell me what to do?
Absolutely not! You know your business better than anyone and more importantly, you've got this far so it's fair to assume you're already extremely capable. The best coaches will encourage collaboration.
When you work together with a business coach, they'll ask you lots of questions to promote conversation and discussion about the various aspects of your business. The purpose of these questions will be to help us find solutions to break down the barriers that are preventing you from growing. From these discussions, they'll create the plan to drive your business forward.
Working with a coach to reach the full potential of your organisation: The verdict
A coach is an excellent resource to have as a business owner, but of course, you need to ensure you work with the right one. Whilst typing 'find a business coach near me' is a great place to start and shows your willingness to develop your company, it is vital you take time to research potential options. Understand what it is you will gain from each potential coach and don't be afraid to expand your search outside of the local area – you may find the perfect match is a little further afield. With advancements in technology and the recent COVID-19 pandemic altering the way we work forever, you have the opportunity to work with the very best coaches on offer as you can connect from anywhere in the world.
Remember to enter into any first meeting with an open mind, and be ready to discuss your company – your short and long-term goals, the overall vision, areas you have identified as weakness, what motivates you each day. If you can share this crucial information, you'll be able to discover how a coach will work with you from the offset and guarantee yourself an authentic working relationship.
Perhaps you are ready to take the next step and meet a business coach that you can trust to provide the right results? If you are looking to unlock the true potential of your organisation, I can help. Dedicated to you, I have over 30 years of experience as a seasoned business owner. With extensive knowledge and expertise, and with a proven track record of success to implement effective methods, I can help you reach your business goals today. Get in contact with me now at graham@grahamgarman.com or complete this contact form, and I'll be happy to discuss how I can help you transform your organisation.