Business coaching has been around since the 1980s, but it seems that only now when we fast forward to 2020 that organisation's are understanding the true value of this investment. However, with a recent rise in popularity, it seems that the business coaching definition is changing. A straightforward tried and tested formula is not enough to see a company thrive in the ever-increasingly competitive industry, instead a tailored plan needs to be implemented to give them the edge.
So, what does this mean for coaches in the future? And, more importantly, how will it affect organisations utilising this method when looking to upscale? Today, we'll be discussing how coaching has developed from what it once was, and what exactly a future relationship with a business coach may look like for you in 2021 and beyond.
The history of coaching
The term was first coined in the latter part of the 1880s, widely associated with sports professionals – even today, we often initially consider 'coaching' as only for sportspeople but it may concentrate on education, business or oneself too. The word 'coach' however, dates back to the 1830s and originally began life as slang for a tutor.
Put in its simplest form, coaching can be defined as "train or instruct" another; it concentrates on directing either an individual or group with the aim to accomplish a certain goal or objective. Whilst, in essence, it is the same, the business coaching definition is slightly different as it focuses professionally and relies on a variety of methods to achieve a unique goal.
In the 1980s, the United States were the first to understand the potential of the coaching process within the business sector. They concluded that this development method was essential to support and enhance a manager's performance so that ultimately, they can contribute directly towards the survival of the company. It was also identified that coaching must include two features to be successful which are 1-to-1 conversations and the concentration on performance (or subjects related to this). This decade saw the growth of coaching, it was greatly accepted that this was a highly effective method and several articles were published celebrating its success. However, during this period the attention of a coach was on leadership development training and management practices rather than the company as a whole.
Let's look closer at a business coach and what utilising this resource means for an organisation alongside how the definition has changed since this time…
The business coaching definition
knowledge + support = success
As a business owner, you are responsible not only for the overall vision but also for the execution of this. It can be a lot of pressure and places you in a unique position. Focusing on growth whilst keeping everything running smoothly may see you lose sight of why you began this venture in the first place. A coach will help you step back, reflect and evaluate where you currently are before you decide how you want to move forward – once you understand what you want moving forward, together with your coach, you'll create an actionable plan to see you get the right results. Rather than telling you what to do, a business coach works with you to find the best path forward, co-creating solutions to overcome obstacles and create meaningful change in yourself and your company.
Every organisation is unique and therefore, the approach used by a coach should be tailored when working with a new company. It's difficult to define exactly what a coach will do for you, but we can look at some of the key features that we have come to expect from a great coach in 2021:
Providing an outsider's perspective: you may feel a tad lost and are looking for answers to reignite the spark that once had you actively developing your business. A great coach will look at your coach within the context of your life, revealing any misalignment and recognising how to rebalance and energise not only your business but you too.
Helping establish a clear vision and set goals accordingly: a coach will set goals with you that align with your values rather than always focusing on the numbers, uncovering the actual motivation for your business. Business coaches help you establish the vision first, and goals second so that your business provides the life you desire.
Working with your strengths, and improving your weaknesses: it's easy to overlook your strengths and focus on your weaknesses, but a coach can assist you with both. They'll pick up on your natural gifts and reveal blind spots.
Holding you accountable: creating success requires consistent time and effort, but it's easy to lose motivation and slip back into bad habits.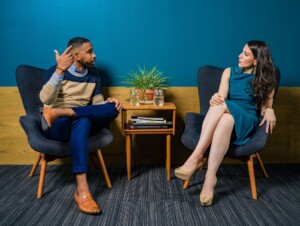 Is hiring a business coach still worth it in 2021?
There are a lot of options to choose from when selecting a coach in 2021, and you may be asking yourself if it's really worth it. The internet is a fantastic resource for business owners, filled to the brim with information that may help you out of a rut. However, a business coach tailors their approach to your business and having an experienced expert on hand can be invaluable – especially in 2021 when it's critical your organisation has the competitive edge.
Self-inquiry
When you first start working with a business coach, you'll find they probe and ask a lot of open-ended questions, encouraging you to think deeply. This may even make you feel slightly uncomfortable, as you are forced to open up about your values, fears, mindset and mission. Examples of these questions may include:
Why did you start this business?
What do you love about this company?
How do you want your business to change in the future?
It's essential that you feel comfortable with your coach and that you share a deep level of trust. This will allow you to actually open up which is absolutely necessary for you to move forward. Many of us find self-inquiry a struggle, and therefore hiring a coach may significantly assist you.
Creating a roadmap
Whilst you may be able to set yourself goals, or perhaps understand your company's mission this is little use without an actionable roadmap that continuously points you in the right direction. A business coach will work with you to create a realistic, manageable plan that allows you to reach the goals you set – they may also account for unexpected obstacles and personal challenges, supporting you through the whole process.
Not only will this see you move forward, but it will motivate you and hold you accountable; you will have regular sessions in place to ensure tasks are completed on time and to a high standard. Should you not follow through, a great coach will be able to see your excuses for what they truly are: your own fears and limiting beliefs.
Assessments
Whilst you may know some of your strengths and weaknesses, a coach will be able to identify and assist you to understand these further with the use of assessments. For example, you may think of yourself as an excellent communicator however, you struggle to effectively communicate with your team – a business coach can help you recognise what it is that is tripping you up, allowing you to shine all the brighter for it.
In 2021, we are all constantly rushing around and often don't take the time to reflect. By utilising coaching, you are forced to stop and evaluate yourself and your business. You'll discover new, innovative solutions that could transform the way you operate, that you may otherwise have missed.
Standards and values
One of the most important factors to consider when hiring a business coach in 2021, is what qualifications, values and previous clients your coach has. You may find someone that seems like a great fit, but it is essential they have the right training to ensure you are wasting your precious profits.
There are a number of different business coaching boards, such as The International Coach Federation (ICF). Working with a coach certified by a professional, established board guarantees you the highest levels of services and ethical standards. Your coaches core values should include:
Integrity
Excellence
Collaboration
Respect
As a client, you'll be placing a lot of faith in the character and skills so it is vital you check the qualifications and morals of your potential coach rather than simply choosing the first option you come across!
The business coaching definition: How will it change in the future?
Business coaching continues to take a more and more personalised approach, and it is vital as a business owner that you work with a coach that consistently builds upon their existing knowledge and success to create new innovative plans. It is not enough for a coach to use the same straightforward techniques and as a business owner, you should be wary of a pre-formulated plan.
In the next decade, we can expect to see new challenges faced by organisations – both unexpected and presumed. Utilising a coach can see these obstacles and issues minimised, and ultimately see your business survive as the market continues to be significantly diluted with a new company cropping up every day. However, the core values of a business coach remain the same – to enable you to set goals and help you achieve these.
Looking for a coach to see you achieve your long-term goals in 2021 and beyond? With over 30 years of experience, I have the expertise to help you build an effective, actionable plan that can see you achieve your visions. Get in touch today at graham@grahamgarman.com or complete this contact form, and I'll be happy to discuss how I can work with you.