The concept of a business coach is a fairly common one. Lots of organisations decide to take on the services of a coach when they have hit a wall. Perhaps they want to grow, take things in a new direction, or simply make a bit more money. All of these are valid reasons for a company to consider a coach. But, when many people think of coaching, they think that it's only for established businesses. Why would a brand new company need coaching when they've only just started out? Well, this is a common misconception. Even the newest of startups can more often than not benefit from coaching! It just might look a little different than it would for established businesses. In this article, we'll be discussing business coaching for startups and how it can help you to succeed, even with a new company. From assisting with your personal development to broadening your skills and even growing your team, the benefits of coaching are surprisingly wide-ranging. So, if you have a startup that could do with a boost, or you are thinking of establishing a brand new operation, this article should help you to consider whether taking on the services of a good business coach could be beneficial for you.
1. Business coaching for startups isn't just for business growth
When they take on the services of a coach, most people look forward to the benefits it will bring to their operations. From growing their business in terms of sales to expanding a team, it's certainly true that coaching is great for that side of things. But what many business owners fail to think about is the personal growth that a coach can help them with, too. Starting a company is hard work, and it can be very mentally taxing. This is especially true if you haven't started a business before. It involves a lot of new situations and challenges that you have to learn how to navigate, which can be daunting! Having a business coach by your side to help you with these challenges and lend a listening ear when things get tough can be hugely valuable. They will have seen it all before many times, and so will be on hand to help equip you with the skills you need to navigate the situations with confidence, helping your personal growth come along in leaps and bounds as your business grows too.
2. They can put you in touch with a wider network
One of the most valuable ways in which business coaching for startups can help you succeed is by introducing you to a wider network. Any good business coach will have access to a huge bank of contacts that they will have made from their own years of experience and networking. These contacts will be very wide-ranging and helpful for a variety of situations, from HR managers to lawyers and everything in between! When you're just starting out in business, building up a useful network of contacts can take up a whole lot of time and energy. Of course, you may not end up needing many of them, if any! But, with the services of a business coach, you can be quickly and easily introduced to more people who can help you and your organisation succeed when you need them.
3. Develop and understand your own business
This point may be a little surprising. After all, as a business owner, surely you know your company far better than anyone else? Of course, this is true. Your operation is your pride and joy, and you should know it inside and out. But, when it comes to startups, the services of a coach can help you to fully understand your industry, market, and how to develop your business to suit them best. Once you have this thorough understanding of the conditions your organisation is operating in, your coach will help you to come up with a plan to succeed in the coming weeks, months, and years. Following a solid plan undoubtedly gives you the best chance of success, especially if you work with your coach on a long-term basis and are willing to adapt this plan as the market changes.
4. Business coaching for startups will challenge your thinking
Going hand in hand with this, a good coach will help you to challenge your own thinking around processes and business decisions. Chances are, your coach will have many years of industry experience behind them. So, they will know how to ask the right questions to get the answers and outcomes that your business needs. They will challenge you to think more critically and come up with innovative solutions to your problems. It's all too easy to get caught up in the monotony of the daily grind. Asking these questions with a fresh perspective could give you the boost you need to gain some clarity
5. A coach is there to keep you motivated
Staying motivated as a business owner is difficult at the best of times. But, it is perhaps the most difficult in a startup scenario when things aren't going quite the way you planned. This is where business coaching for startups can help you thrive. They will not only help you to come up with a plan, but also work to keep you on track and be there to give you a boost when things get tough. Running a startup on your own is doable, but it involves a lot of hard work. However, with the services of a coach, you don't need to do it on your own. You can always have someone there to talk you through the bad days and celebrate your successes with you.
6. Do you need an objective voice of reason?
Running a business is difficult for a number of reasons. However, one of the hardest things about it is the fact that it's all too easy to allow the passion you have for your business to cloud your judgement. It can be hard to make good, rational decisions when you are so close to the business each day. Perhaps this is most prominent when you are just starting out and are yet to build a team to which you can outsource some of the daily tasks. But, this is another way that business coaching for startups can help you succeed. They will have no personal or emotional attachment to your operation. So, your coach will become the objective voice of reason, helping you to take a step back and make clearer decisions. Over time, working with an impartial voice will help train you to become more objective yourself, so that you can continue to make better decisions going forwards.
7. Want to broaden your skills?
As a business owner, it's impossible to do absolutely everything on your own! You will have some things that you're really good at and other areas in which your skills are lacking a bit. However, a coach will help you to develop and strengthen skills that could help you and your business to thrive. Is there a particular area of your business that you'd like to improve, but don't currently have the skills to do so? Then, you should consider hiring a coach that specialises in that area for the best results. No matter what area you want to focus on, there will be a coach out there to help you do so.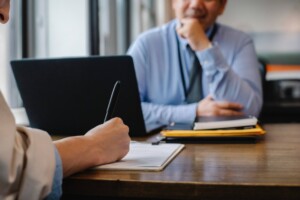 8. A coach can help you build an amazing team
To really thrive and reach its full potential, any business needs to cultivate a really great team. After all, even in a startup, you can't run things on your own for too long. Your coach will be able to help you get your business in a position to hire if you haven't before, or help you to expand further if you already have a team. But, it's not all about getting new employees on board. They will also work with you to develop a great employee retention strategy so that you can hold on to the best people for longer. Any business must rely on its team to succeed, so if you want to ensure that your startup attracts the best team possible, you could probably benefit from a coach to help you do so!
Final thoughts on business coaching for startups
While business coaching is often aimed at established company owners who are stuck in a rut, there are also plenty of benefits for startups too! In fact, it is often startups that can benefit the most from coaching to help them manage the many pits and peaks that can come with being a new business owner. Business coaching is versatile, and there's a coach out there to suit everyone, no matter what your needs may be. So, if you're feeling out of our depth with your startup, or simply want to give things a boost, business coaching for startups could be beneficial for you.
Here at Chrysalis Partners South, I work with my clients to see their businesses thrive. I know that, for most people, the bottom line is that they want to make more money from their business. So, I will work with you to make that happen, alongside your other goals. Does this sound like the sort of business coach that you would like to work with? Contact me today at graham@grahamgarman.com or complete the contact form here and I'll get back to your shortly to discuss your individual requirements.